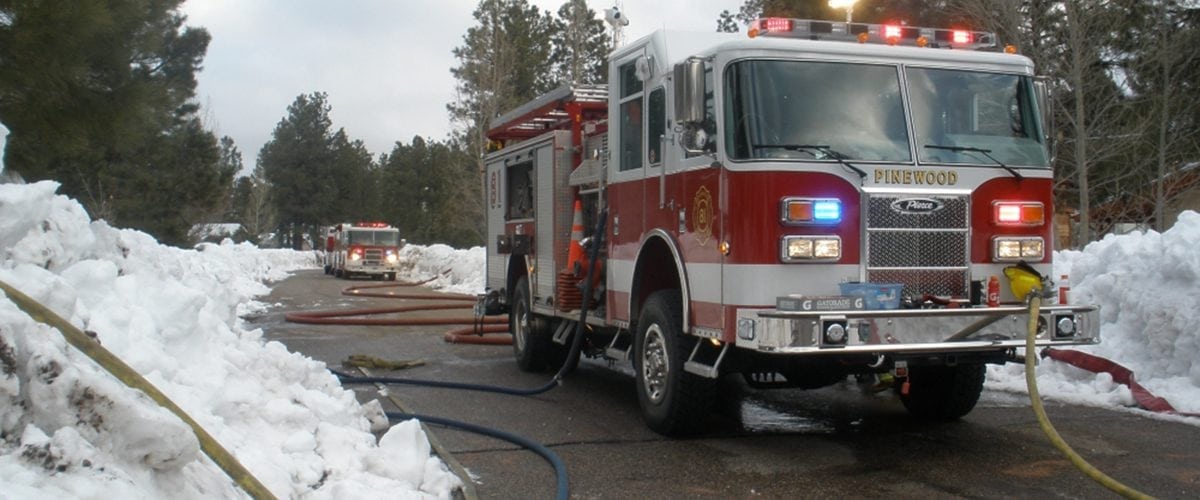 About Pinewood Fire Department
Pinewood Fire Department is located in Munds Park, Arizona which is 17 miles south of Flagstaff. We cover 25 miles of Interstate 17 from Stoneman Lake exit 306 to Kelly Canyon (exit 331). In addition to providing fire suppression, and rescue services, we also provide emergency medical service and staff two ambulances.
To serve our community we have 5 line staff on duty 24 hours a day (1 captain,1 Engineer and 3 firefighters- 3 of which much be ALS certified paramedics. To learn more about our staff please visit our staff page.
Click on a link below to get directions from Google Maps:
Driving Directions
History
The Pinewood Fire Department was formed in 1973, becoming a Special Fire District in 1976. The Fire District day-to-day operations are the responsibility of Fire Chief, and are overseen by a 5-person elected Board of Directors.
Our Fire District boundary is the community of Munds Park. Our Ambulance Service area is the same location plus 5 miles each side of Interstate 17 from Stoneman Lake exit at Mile Post 306 North to Kelly Canyon exit at Mile Post 331.
The Fire District has an ISO rating of 4.
Employment
The Pinewood Fire Department is currently accepting applications for the position of Reserve Firefighter.  If interested, please click here for more information.   Our Application of Employment can be found HERE.